Our Approach
---
Doing great work is a given.
We design beautiful things and win awards, but what agency doesn'? It's our approach that sets us apart.
We develop a strategic plan that guides our efforts with each client. That plan is the roadmap for all technical, aesthetic and business decisions we make. It's this discipline and constant drive to optimize (around a plan) that keeps us successful and keeps our clients coming back to us.
Get to know us better, and you'll see what we're talking about.
User Focused / Data Driven
---
Everything we do is made for users and supported by data. Lots of data.
This balance between users and data sounds simple, but it's one of the biggest challenges in our industry today. We've mastered it over the last 11 years, and we'll never sacrifice one for the other.
For Example
Our last blog design had a side bar that contained a short description, a search, an email signup and links (with images) to our most recent articles. It made sense to give people information and options for additional content, but when we looked at the data, the side bar saw very little engagement.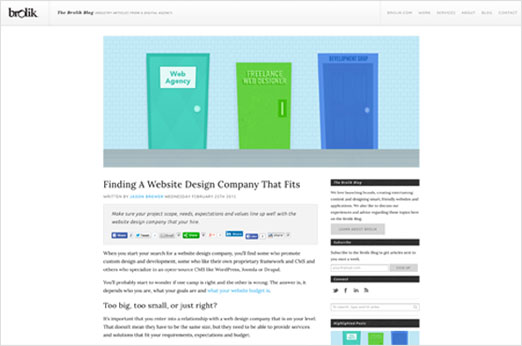 In our current blog design, we let the article take center stage. We don't distract the reader with anything until they are done reading the article. The result? Clicks to other articles have increased significantly. Email sign ups are up as well.
Branded Content Always Beats Marketing Fluff
---
A brand's content is the reason people come to their website, and content is what people share. It's easily the most important aspect of a digital identity, so of course it needs to be "good," but it's also a huge part of a company's brand.
We understand content strategy and brand strategy and recognize the importance of blending the two.
That's the only way to ensure our clients are communicating exactly the right message at exactly the right time to exactly the right people.
Here's some of our own content we generate on a weekly basis.
Start With (and Stick With) a Plan
---
Before beginning any project, we have an extensive discovery process to learn as much as we can about our clients, their industries and their competitors.
Plans can change, but [ ]
Our research is turned into reports, planning documents, sitemaps, wireframes, sketches and more that ensure a seamless and collaborative process throughout an entire project.
You can see some of our research deliverables in our case studies.
Nothing is Ever Finished
---
In the digital world, nothing is ever "finished." We analyze data to continually improve any project or campaign we run. The web gives us the opportunity to react to users, so why wouldn't every business constantly optimize?
Maybe that's a question you should ask your current agency.
Those Who Can Should Teach
---
We believe in educating our clients as much as they'll let us. We're smart enough to respect our clients' knowledge, but we won't sit by quietly and do anything but what's best for our clients.
Read more on client education in A List Apart from our CCO Drew Thomas.
The Whole is Greater than the Sum of Parts
---
We focus on a few key service areas– Web Design, Digital Strategy, Branding and Video Production– because they naturally compliment each other. We believe in the strength of their integration.
Web Design
Our websites and application are built on a proprietary CMS platform called Leverage that integrates with our proprietary analytics and leads platform called the Digital Strategy Dashboard.
Digital Strategy
For digital marketing, the website is our content, tracking and reporting hub.
Branding
Our experience in brand strategy and logo design is at the center of everything we create. We're firm believers that brand and culture need to drive every single aspect of a business.
Video Production
Video, an insane driver of clicks and conversions, is integrated it into our campaigns as easily as anything else.
---
In the end, it's not about any one product or service. It's not about any one philosophy either. It's the sum of many ideals and the unified implementation of many services that drive success.
With that in mind, we're ready and waiting with an open mind to do whatever it takes to improve your business. If you're ready, let's get started.