Rehab Financial Group started working with Brolik in 2012 to improve their digital strategy, increase traffic and secure more loans for their clients. It turned out to be a good decision for the company. I discussed the process with Rehab Financial Group's president, Susan Naftulin.
I met with Susan Naftulin in early 2012. I remember the Winter was lingering, but there was a promise of Spring in the air- a fitting theme for the meeting and how Rehab Financial was poised for growth. It was obvious in the first half hour of conversation that Rehab Financial Group was a small operation where every person wore many hats. Susan wasn't shy to admit that she didn't have much experience in the digital marketing world and really needed a partner to help them find more quality applicants online.
For RFG, starting the project would take more than a financial commitment. Susan knew that in making the jump into digital strategy, she would have to take blog writing seriously and spend more hours a week on writing. They were hours that she didn't really have.
Now, almost a year after Susan and her company hired us and made the commitment to digital strategy, I decided to sit down with her and shed some light on the challenges and progress they've experienced in 2012-2013.
What is your business model, in a nutshell?
Susan: RFG is a specialty mortgage finance company making first lien loans to investors purchasing 1-4 unit residential property in need of rehab. RFG fully underwrites the borrower and the collateral property, and if the loan meets RFG's underwriting criteria, will lend the borrower up to 65% of the after repaired value for the purchase and rehab of the property. All of RFG's loans are either six month or twelve month term loans.
What were your goals when you hired Brolik?
Susan: RFG's goals were to improve business by increasing RFG's online presence, maximizing its advertising dollars and driving relevant traffic to RFG's website, which would ultimately result in increased closed loan volume.
Did you expect immediate success, or did you have your doubts when you started?
Susan: I expected success to be gradual, but did not doubt that it would ultimately be successful. It took a few months for the two companies to understand each other's operations, but over time and a lot of communication, we zeroed in on what we needed from each other.
Do you feel the investment has brought more business or brand awareness to the company?
Susan: Since working with Brolik, RFG has consistently received more views on its website, received more customer calls, and most importantly has continually built its loan volume when measured quarterly.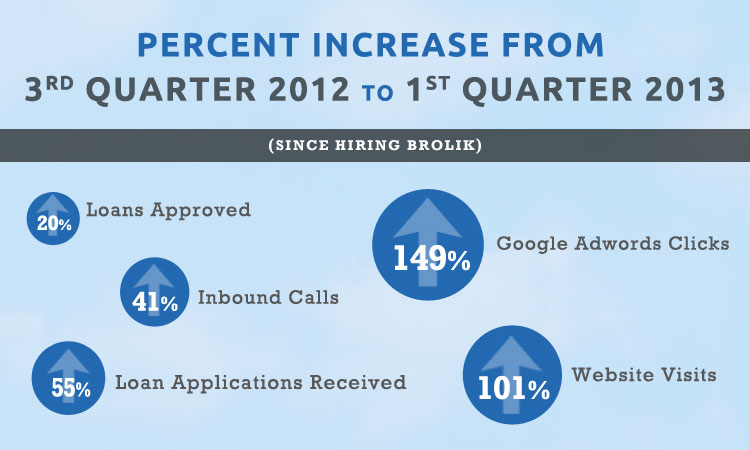 Do you have any tips for other small businesses who are considering investing in digital strategy?
Susan: You need to be comfortable with the people you are making the investment with. Brolik came highly recommended, but so did other similar companies. After interviewing several of them, I identified Brolik as a group of people I could work with. Once you make the commitment  to move forward, you need to trust the people you have hired. Make sure they understand your product, and make sure you understand what they are asking you to pay for, but trust them on the implementation.
How has the company changed in the last year?
Susan: RFG has begun the transition from a small, start up company, to a viable mortgage lender with a growing, positive, and regional reputation. We have moved offices to allow for room to grow, and have been successful in expanding our investor base and banking relationships.
What has been the single most effective initiative?
Susan: I believe that the single most effective initiative has been through the refined and pointed use of Google Adwords.
Are you considering investing more in any specific areas in the future to improve brand awareness or lead generation?
Susan: We have been speaking with Brolik regarding expanding our avenues of exposure, such as a concerted effort to increase inbound links and growing RFG's use of social media.
What does the next year look like for Rehab Financial Group?
Susan: We are excited about the prospects for RFG. We have begun to actively loan in additional states and expect to grow our presence in the nine states we currently lend in. We enjoyed an excellent 2012, returning a significant dividend to our investors, and anticipate this level of success in the years to come.