If you aren't using the Google Search Console to support your digital marketing, you are missing out on great opportunities.
Earlier this year, Google changed the name of "Google Webmaster Tools" to "Google Search Console."
The reason for doing so was to make the tool more approachable. Over the last few years, Webmaster Tools has been loaded with tools for marketers, but with the name "Webmaster Tools," marketers have been scared away.
Unfortunately, the name change alone hasn't been enough to entice marketers to use the tool. As such, it remains incredibly underutilized.
For those that are considering using the Search Console, here are my six favorite marketing use cases.
Website Monitoring
As a digital marketer, it is important to monitor and analyze technical website performance.
This is incredibly easy from the Dashboard within the Search Console. From here, you can monitor server issues, URL problems, overarching search engine traffic and your search engine indexation status.
While that sounds complicated, what it is actually doing is monitoring how well Google can see your site (server issues and URL errors), telling you how much of the site that Google actually cares about (sitemap URLs submitted versus indexed) and whether or not your website is currently receiving search traffic (search analytics).

Big and Easy SEO Win
Once you are sure that your website's foundation is acceptable you should turn to Search Analytics in the Search Traffic section to discover a few easy SEO opportunities.
From the Search Analytics view, check the Impressions and Position boxes. Once you are viewing this data, sort it by impressions.
From here, I search for queries that are between an average rank of 9 and 19 that are also yielding high impression volume.
Keywords that meet these requirements represent highly trafficked themes that Google considers you a relevant source for. Because of this, with some on page optimization tweaks, a little bit of content development or a few relevant links, you can boost your average rank to a position that will drive a significant boost in traffic.
Slight SEO Bump
Once all of the low hanging fruit has been plucked, it is necessary to dig a little deeper.
At this point, I stay inside the Search Analytics view, but I switch over to Pages instead of Queries. Position must also be displayed and the list of pages must be sorted by position.
When looking at this data, I search for pages that are ranking between 4 and 12. Inside this range of pages, it is critical to search for pages that are focused on a specific theme.
For instance, Matt Sommer's blog about the Facebook 20% rule has an average rank of 9. With such a specific topic, we could write another article about the 20% rule on Facebook, write a similar article and link to the 20% article or try to gain a few external links to it to boost the position.
This practice wouldn't work as effectively for our About page, which lacks a specific content theme, even though that page has an average position of 5.3.
SEO Watchdog
An SEO's job includes more than trying to boost search ranking. Another important aspect of the job is to identify when ranking losses are taking place and focus on turning them around.
An SEO's job includes more than trying to boost search ranking.
While this has become more difficult with Google slowly rolling out incremental changes instead of large sweeping updates, losses can still be identified when you zoom out on the data.
For this tactic, I continue to use Search Analytics. I set the date range to the last 90 days. I also activate clicks, impressions, position and CTR.
Search for continued downward trends. Daily or weekly spikes are to be expected based on Google tweaking the search algorithm between 500-600 times per year. However, when a trend continues over the course of 2-3 weeks, it's important to find out why.
When a trend like this is spotted, adjust your timeline to include the first 2-3 weeks of the downward trend.
Turn on "Compare Date Ranges" to include a matching amount of data just before the downward trend.
Next, go through the list of queries and search for the largest drops. This should also be repeated with Pages activated instead of Queries.
When the pages and queries with the biggest drops are identified, it's time to identify why. If the drops are associated with a decrease in position, it's time to begin the tweaking process to turn around the losses that are taking place.
If impressions are dropping but the rank remains the same, it's likely due to seasonality. If seasonality doesn't play into the phrase or page in question, then there could be lack of interest taking place or a change in user vocabulary. In this case, you may need to start talking to some of your users to pinpoint the issue.
If impressions and position are consistent, but clicks are decreasing, there is likely an issue with your SERP appearance. Run a few searches for yourself to make sure no warning or hack messages are displayed. If there are no messages, it's time to start testing different title and description tags to get your click through rate back in shape.
Link Multiplier
A great way to garner new links is to look at the links that you already have. For this tactic, go to the Links to Your Site view in the Search Traffic section. The top 5 linked pages will be displayed on the right. Click on the More button, right below them.
Beyond your website's top pages, identify whether the content with the most links is fresh or not. If the content is fresh, work it into your social media and email marketing. It's also effective to connect with outside bloggers and influencers on the topic to get a bigger push.
If the content is stale or outdated, write an update on the topic and link to it from the old content piece. If you had great success before, it's possible that it will happen again.
My last suggestion on this tactic is to consider developing an interactive version of the content piece. For example, here at Brolik we have had great success writing about the delineation between custom and template website development. As a result, we decided to take it a step further and develop an interactive tool to build on the success that the articles were already having.
Content Keywords
My final tip is to view your brand through the lens of Google. The purpose of this is to identify whether or not Google understands your purpose.
To do so, go to the Content Keywords view, which is located in the Google Index section of the Search Console.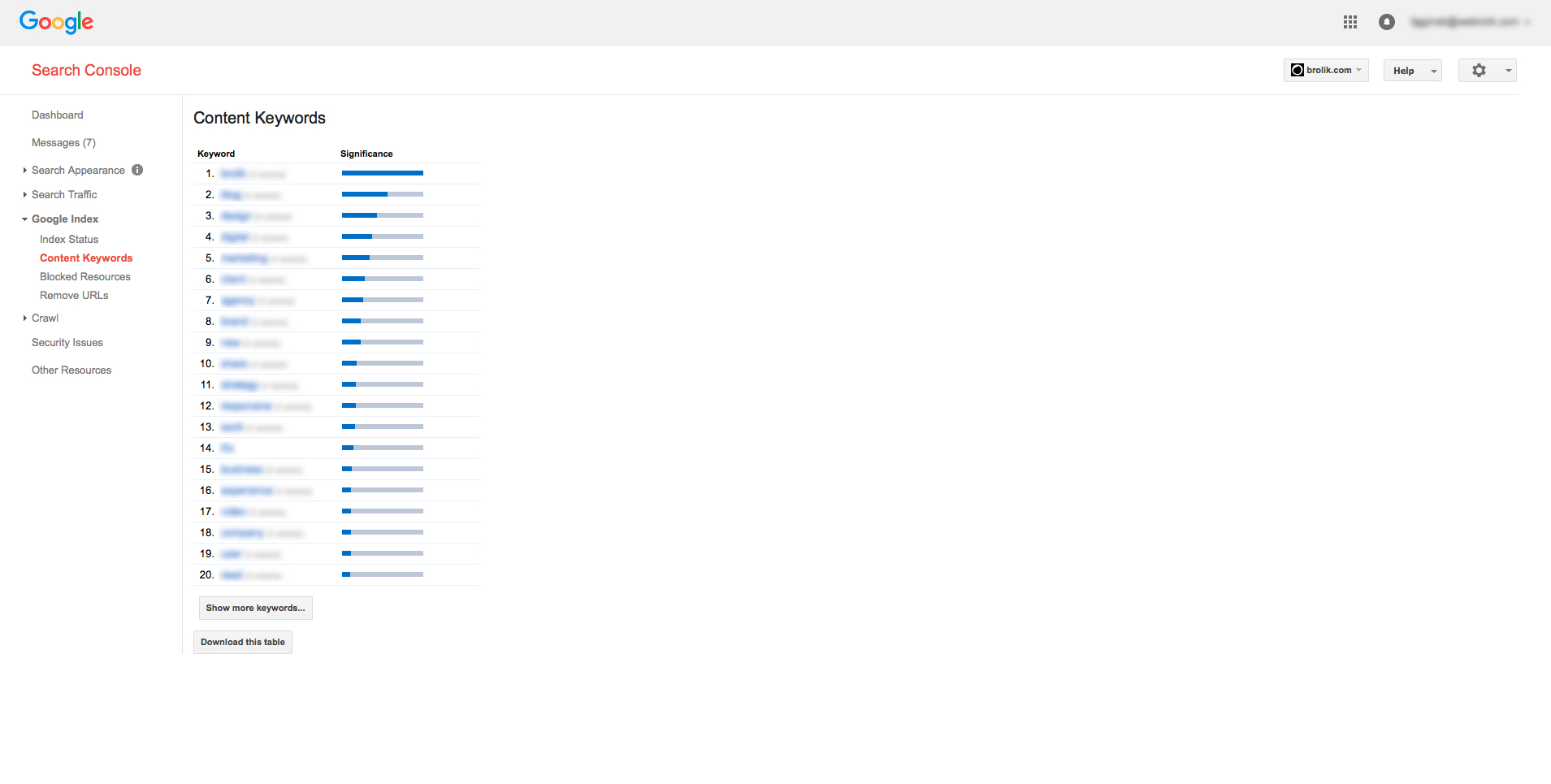 For Brolik, our top Content Keywords are "brolik," "blog," design," "digital" and "marketing." As a digital agency, if design, digital and marketing weren't in the top five, I would have a significant amount of work ahead of me.
The goal here is to get your top terms to align with the way you want your brand to be perceived.  
In Summary
The Google Webmaster Tools have evolved over the last few years turning it into a fantastic aid for technical digital marketing. If you aren't using it to support your digital marketing, you are surely missing out on some great opportunities.
If you aren't using the Google Search Console to support your digital marketing, you are missing out.
Do you have any other tactics to try in the Search Console? Let me know in the comments below or at @BryceLiggins.