Networking with people you have never met before can feel awkward at times, but with the right process in place, even less social types can be successful.
I've broken down my approach into 10 business networking tips to help you navigate the crowd at your next event and generate referrals.
Time is valuable so choose events that you know will have the right people present. This process can include some trial and error. Try a few different events that attract different demographics and narrow down which ones are good for your company and which should be avoided in the future.
Once you find the events that are valuable to you, go to as many as possible while balancing your other work obligations.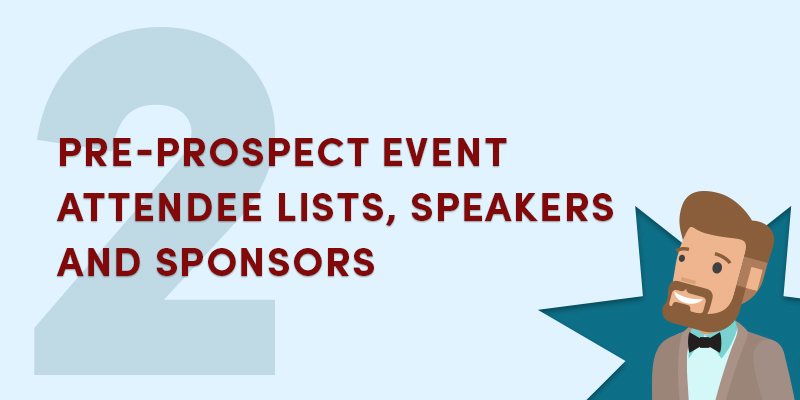 Doing research before an event is always a good idea. This step mentally prepares you for the people you will be networking with. Knowing who will be attending an event is just as important as knowing the purpose and itinerary of the event. This gives you the insight needed to thank a sponsor for hosting or tell a speaker you are excited to hear their talk about "X."
On top of being knowledgeable about the event, having a reason for attending that isn't networking, is a great way to come off non-threatening to the people you connect with there.
Sometimes pre-prospecting uncovers old contacts that will also be attending the event. The event then becomes the perfect excuse to reach out to that contact and get back in touch prior to attending.
This step does not take any skill but is crucial for the success of business networking. Arriving early allows you to establish yourself in a room and start connecting with people before programming begins or the crowd becomes too overwhelming.
By being one of the first attendees to strike up a conversation, you will draw attention to yourself. Once an active conversation is taking place, others will want to join. They will approach you instead of you having to approach them.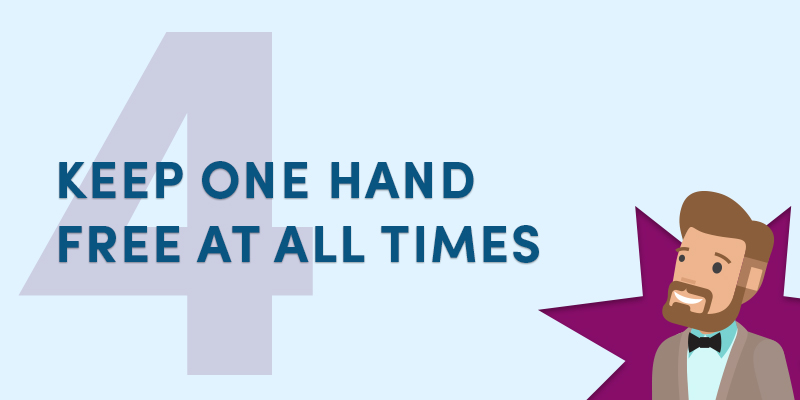 Sounds simple but you don't want to be the person juggling a plate of food, cup of coffee, and business cards. Keeping one hand free is more important than you think.
When you are busy devouring food and slurping down your coffee you come off as unapproachable. Someone who may want to introduce themselves will forgo interrupting you because it is uncomfortable to do so.
It is very easy to sit against a wall, drink your free coffee and wait for an event to be over. But you will never be successful if you isolate yourself from conversation and wait to be approached by someone. Instead, place yourself in the action and just introduce yourself to anyone. Strike up a good conversation and other people in the room will notice.
Recently, I was at an all day lunch & panel discussion event. When everyone first arrived people were eating lunch while standing in the corners of the room, reluctant to sit down with one another to share lunch.
I saw someone sitting by themselves in the middle of the room so I brought my lunch over, sat down with them and started talking. Minutes later, after we were sharing laughs and discussing our interest in the event, people started asking if they could sit down with us.
Everyone was already introducing themselves when I realized I just got a free lunch meeting. I was able to pitch my experience and company without anyone thinking they were being sold to. Of the five people who sat down at the table that day, three of them booked a meeting with me to learn more about our company and the other two asked me to stay in touch and join our mailing list.
You will be astounded how a simple, "Hi, how are you?", will open up a conversation and lead to uncovering common interests or mutual connections.
I was recently in line for coffee at an event. I asked the man in front of me how he was doing. He began venting to me about complications with his granddaughter in an ICU unit.
At first, I was taken back by the amount of personal information this man was sharing with me but was able to sympathize with his struggles and connect on a real level. I was genuine in my response to the stories he shared and gained his trust. Regardless, if this person was a good prospect for our company, I was planting seeds for new business relationships and potential referrals.
Say hello to every person you make eye contact with.
This step is self explanatory. It's like when you brought in candy to elementary school, teachers would always explain, "if you are going to bring in candy, you need to bring enough for everyone."
Don't single anyone out, if there are four people tuned into a conversation when cards are exchanged give them all a business card. If someone really doesn't want your card they will say so.
Most of the time the other party will instinctively hand you their card as well. You may get the contact information of someone you didn't even know would be a good connection. A little research on them after the event will reveal this to you.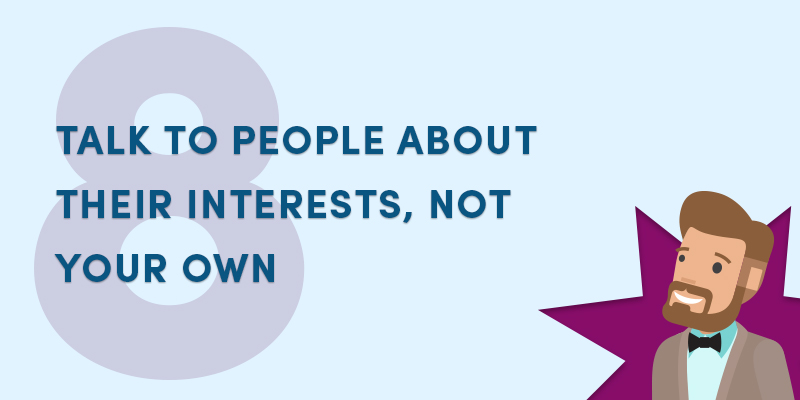 This step is when you begin generating referrals, but first the goal is to keep someone's attention and form a lasting connection.
Start by not thinking selfishly. Ask your conversation partner about themselves. Try asking why they are at the event to get the conversation started. Then think on your feet and consider who in your network would be valuable for them to know. If you find a connection there, offer an introduction and watch how appreciative people are when you put their interests before your own.
This step works in conjunction with the previous one. If you promise someone an introduction, to share your capabilities deck, or even just to stay in touch, you better make it happen. Only make promises you can keep and create a process for yourself to keep track of these promises.
I suggest writing reminders for yourself on business cards, sending yourself an email reminder, using tools like Asana to assign tasks or saving the info in a CRM. Do whatever you need to do to jog your memory to follow up on the conversations and promises you make with people you connect with at events.
Your goal is to build relationships and gain trust. The way to do that is to deliver on your promises.
This step is essential to converting business from your new connections. Generating referrals will never happen if you don't remember to follow up.
This can be as simple as thanking someone for talking but ideally carries a strong "why." I recommend including details as to what was discussed or where you met them at the networking event to help jog their memory on your conversation. You can say something along the lines of, "It was so great talking with you over coffee" or "while waiting for the presentations to begin" or "after the event" / "before the event."  
If you are persistent and genuine in your interest to help others they will do the same for you.
Just remember to follow up, provide context to how you met and include the reason why you are following up. Once the relationship is established all you have to do is ask.