The Brolik team digs deep into data and trends to find business and marketing opportunities to help companies to succeed during a global crisis.
This is the first article in a series examining how businesses are adapting to the pandemic and identifying opportunities to make it through the shutdown. Our second article in this series looks at how food and beverage companies are adjusting.
---
Estimated reading time: 14 min

This article includes:
Trends we are seeing in consumer behavior, online habits and shopping behavior (based on hard data)
Examples of movement towards digital products or virtual offerings in specific industries
Opportunity areas where businesses can take advantage of lower costs or better performing channels
While navigating the day-to-day complexities of the pandemic, we've shifted our focus from marketing-as-usual to a mode of intense observe-and-adapt, ready to make decisions and take action for our clients in a moment's time. We've been digging into data and looking for trends to understand what the pandemic means for our clients. Most importantly, we're looking for opportunities for them to succeed in an uncertain time.
Over the last 20 years, we've seen a consistent trend towards online marketing and web-based business models. With the pandemic, this trend is accelerating at rapid speed out of sheer survival. Some companies are nimble and will be able to adapt and even grow, while some will fail to adapt due to inertia or fear. But there is opportunity here, even if it's just staying top-of-mind while your competitors pull back.
Our perspective is this: there will be no turning back. Embrace the change and find a way to survive and thrive in this new age.
According to Ogilvy, brands that get it right in a downturn capture up to three times more market share in the two years following recovery. Bain & Company's analysis of the 2008 recession backs this up, showing that winners grew at a 17% compound annual growth rate during the downturn, while losers grew 0%.
In general, the winners went on the offensive, investing in strategic areas of the business, while the losers were too slow to react, or chose to aggressively cut spending. Hesitating or pulling back caused damage to the brand that was hard to come back from, as by then, the winners had captured most of the market share — for good.
Pull back? Accelerate? Shut Spending Down Completely?
Every business owner is wondering the same thing: "What should I do right now?" The answer is that it depends on your business model, industry, and specific circumstances. Now is not the time to make impulsive decisions — it's time to use the data you have and think critically about the future and how your business can adapt, both now and for the long-term.
Shutting down marketing is an option, but it's not the only option right now, even if it feels like it. When your marketing and advertising is sitting idle, you're losing crucial ground to your competitors that can take months or years to regain. Additionally, no one knows how long this pandemic is going to continue, so companies could be paralyzing themselves by halting their marketing completely.
Depending on your business and current outlook, it may be time to pull back spending, adapt your business model, or shift your strategy to focus on a few specific channels. However, before you make any decisions, it's important to dissect your business offerings, assess if there are any changes in demand or consumer behavior based on data, and know what other companies are doing to successfully navigate these challenging times. There could be an opportunity that you are not seeing (because you are closing your eyes, bracing for the worst).
Start By Analyzing The Competition
In the past couple of weeks, we've looked at each client's competitive landscape to see what their competitors are doing. This is helpful to get ideas of how similar companies are handling the situation and to identify opportunities for our clients to take advantage of. Here are the kinds of things we're looking at:
Messaging and customer outreach (including website content, ad copy, email, social media, and other communications):
How are competitors addressing the situation? What are they communicating to customers? Have they updated their messaging on their web and social platforms? How are they interacting with their audience right now?
Business model, products, and services:
Are competitors making any pivots to certain aspects of the business? Have they shifted or changed their business model? Are they moving towards online content or events? Emphasizing one product over others?
Have competitors changed their strategy? Have they cut or increased spend in general or for specific products or services? Have they shifted their spend to focus on certain channels or ad types?
Are competitors offering discounts, opening up digital services, content, or products for free use, or supporting customers in other ways?
Are competitors doing anything outside of the box? What about companies that are not direct competitors but have a similar business model?
Now, let's get into a few trends and themes we've noticed, and some examples of opportunities we've identified for our clients. We're looking primarily at Google Trends data because it updates in real-time and is most useful for reflecting the rapid changes we're experiencing as a society. We also pulled from internal data and studies published by research firms.
This article is fairly in-depth, so if you would like to skip ahead, you can use the links below to navigate directly to a section. However, each section covers a wide range of verticals and business models, so we recommend reading the whole thing — you never know what might spark an idea for your company.
The Rise of Virtual Appointments
Social Media Usage is Up and CPC is Down
Customer Priorities Have Shifted to Essential Needs
High Demand for Online Content, Classes, and Events
The Rise of Virtual Appointments
Even though it seems like everything is shut down right now, life still goes on. People still have needs, so many companies have taken to virtual appointments to continue serving their customers. This trend is industry-agnostic, affecting everything from home services, to doctor and therapy appointments, to retail businesses like wine tasting, bridal shopping, and hair salons. Essentially, if there's any possible way to meet with clients and customers over the internet, companies are trying it out.
While this is partly due to companies trying to stay afloat after closing their physical location, there is a staggering amount of demand from consumers, as reflected in Google Trends below. It's a win-win relationship: companies need revenue, and customers need services.
Google Trends Search Volume Data – "Virtual Appointments" 
One of our clients provides HVAC installation and maintenance services, and as a business that operates by going into customers' homes, they're looking for a way through the crisis. In order to continue providing a service for customers without going into their homes, we recommended offering video consultations for maintenance issues, where customers can hop on a video call with a technician and walk through diagnosing and fixing their system virtually. Our client is working to implement this new service as quickly as they can, like many home services companies who never had the pressure to implement this type of technology pre-coronavirus.
We're seeing a similar trend in other home services based sectors, like the residential solar market. Door-to-door sales are out the window. Companies are needing to pivot aggressively to online sales and virtual appointments.
The spike in virtual appointments is also happening in the health industry. Telemedicine has been on the rise for years, but it still hasn't broken into the mainstream. In 2019, only 10% of people had ever used a telemedicine service. This crisis will likely be the catalyst for finally breaking through. Demand has already spiked for established telehealth companies in the US. A March 2020 study found 60% of people would consider using a digital health service.
People are understandably freaked out about going to hospitals, urgent care, or doctor's offices in general, but they still need everyday and preventative care, and digital healthcare can provide that for them, from a safe distance.
Google Trends Search Volume Data – "Telehealth"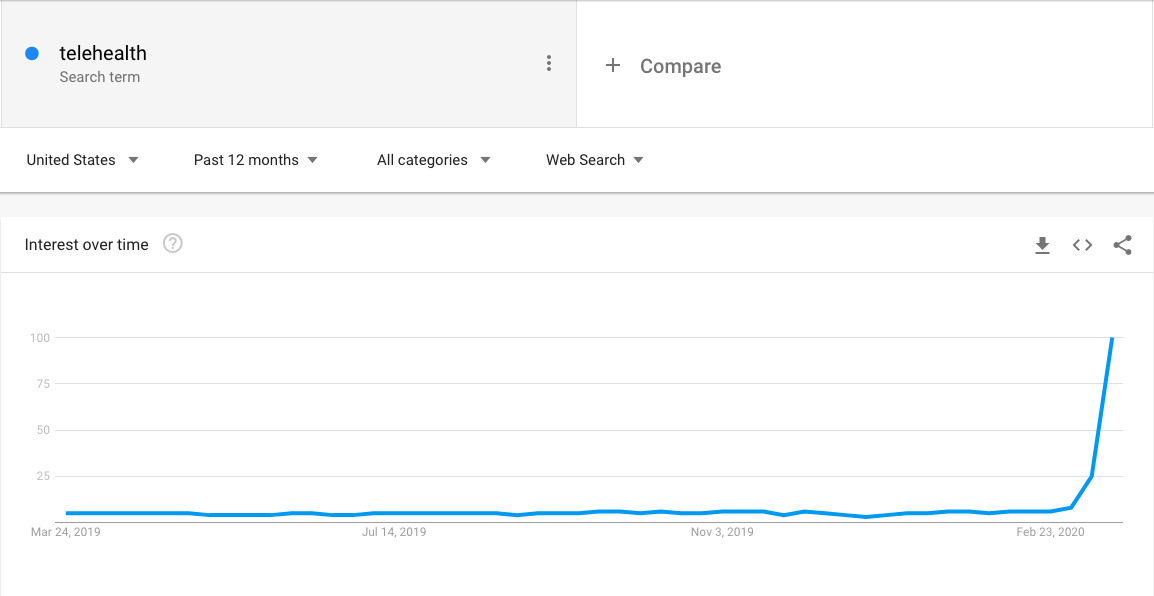 Looking at Google Trends, it's pretty clear to see that interest in telehealth is skyrocketing since news of coronavirus started to grow in the US.
One of our clients is a concierge medicine practice planning on launching this summer, but current events have encouraged us to move up the timeline. Having a physician who is available over video, text, and phone is a major benefit right now. The option of having unlimited healthcare — available at a distance — is incredibly alluring at the moment for many consumers, and our client is looking to launch as soon as possible to provide care for their community.
Another opportunity to note is that, during this crisis, many people will be signing up for new services for the first time. There is an opportunity for businesses to grow their customer base and retain these customers when the crisis ends. We've recommended that our client capitalize on this increased demand now, and then work on nurturing new customers who otherwise might have never considered using such a service.
Takeaway: For consultants, service providers, and health clinicians, use the current situation as motivation to expand your top-of-funnel and awareness marketing and advance your virtual offering. Even though physical locations are closed, consumers still need these critical services. It's a great time to build brand awareness and goodwill, and work on acquiring new customers at a lower than usual cost per acquisition.
Social Media Usage is Up and CPC is Down
As people have moved into self-isolation around the country (and the world), online behavior has changed. People are expanding their web surfing habits to feel more connected and informed, and traffic for social media networks is through the roof.
Facebook is seeing a record-breaking amount of usage, with people returning to the platform to connect with friends and family, find entertaining content, and stay up-to-date with what's going on in the news. Despite increased traffic, Facebook is facing a massive drop in ad revenue. Not  good news if you own shares of Facebook stock, but if you are a small business, you have to look at the opportunity that is presenting itself. Consumers are generally showing less inclination to buy at the moment and most brands are pulling back their spending to conserve cash or because the effectiveness of their campaigns has dropped. The result in many cases is that CPC (cost-per-click) has dropped across the board.
Overall CPC in North America on Facebook has halved, from $0.64 in December to $0.32 in mid-March, with a similar drop in Western Europe. You can spend less money to engage your audience because your competitors aren't bidding as aggressively against you. Not to mention, your audience on Facebook is likely bigger and more engaged than ever due to the increased traffic, assuming you can meet them with the right message.
While we haven't found data on recent CPC drops for Twitter, they are also experiencing both a surge in traffic and a drop in ad revenue, making it very likely that your dollar will also go further on Twitter than it has in a while.
Difference in Ad Rates Between March 2019 and March 2020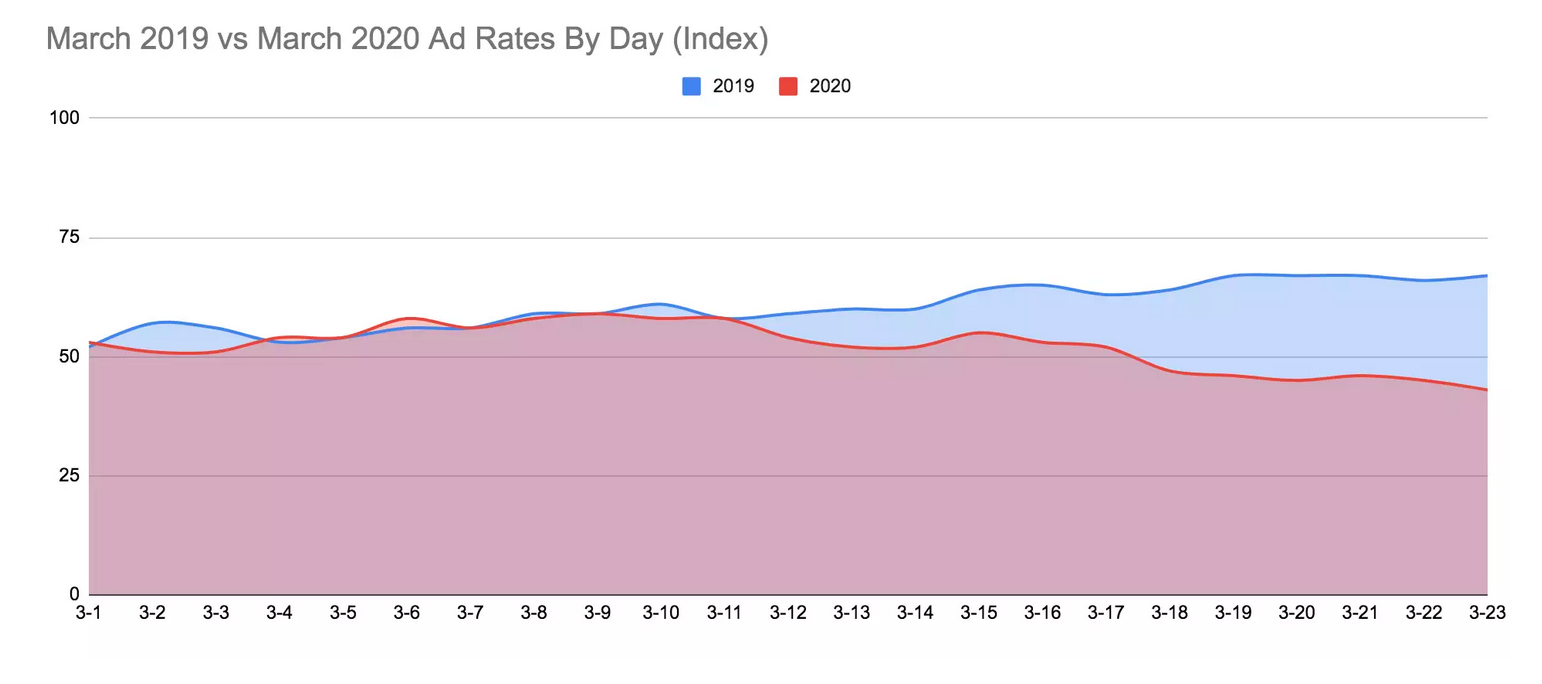 While many non-essential brands are seeing sales drop, some product categories are trending up as people seek safety and comfort during the pandemic. One of our clients is an e-commerce brand selling these kinds of goods, and we've seen a spike in sales over the past week.
In response, we've actually increased their Facebook ad spend to capitalize on this increased intent to buy. As a result of lower CPCs and increased spend (and because our advertising strategy is highly optimized around the messaging we've developed for them), sales have increased even more:
Our client is lucky to have a product people are looking to buy right now, but other businesses can still take lessons from this case.
Keep in mind that even if sales are low right now, it's important to keep up brand awareness and stay top-of-mind, because it'll be that much harder to recover if your audience forgets that you exist and your competition takes your place in the minds of your customers. Plus, if a customer is looking to purchase and your brand is nowhere to be found, they'll turn to the next brand.
Takeaway: Think about how your product would be getting used right now — and by whom — and make a push for that audience by shifting your marketing messaging, targeting, and spend to capture that audience where they are spending time right now. Dig into your data and see if moving your ad spend towards one or two social platforms would help you reach your audience.
Customer Priorities Have Shifted to Essential Needs
While most businesses are understandably looking to cut costs and conserve spending right now, there are specific trends we've seen that shouldn't be ignored. One of the most evident themes is that customer priorities have changed, and it's more important than ever to follow your customers' lead and give them what they perceive as essential right now.
On the B2B end of the spectrum for instance, we've been tracking massive increases in "contingency" related search terms as companies plan for an uncertain future. Opportunities are presenting themselves around products and service offerings that offer solutions to the current crisis, as companies put contingency plans in place, adapt to the current reality, and develop their remote work infrastructure.
Google Trends Search Volume Data – "Contingency Planning"
Even more interesting, is that the popularity of these terms can be seen tracking with stay-at-home and quarantine orders nationwide.
Google Trends Geographic Data – "Contingency Planning"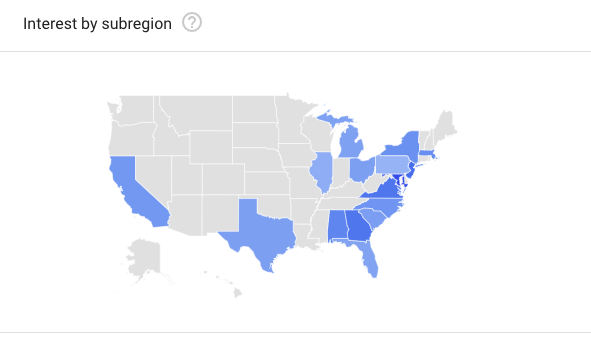 Our client Powerhouse, an industrial boiler business, has seen a huge surge in emergency boiler rentals the past week or two. We assume that organizations are putting contingency plans in place to be prepared for what may lie ahead.
What's interesting is that although their services are more important than ever in this scenario, we've actually seen their competition reduce their spend. Take Google search ads for instance, where we've seen cheaper engagements and a greater share of voice despite no increases in spend:
As a result of these two key factors — messaging updates and competitors falling off — we've seen a noticeable increase in valuable leads to their business during this period, and at a more significant rate as well:
Now, let's talk about B2C. Going back to our HVAC client, one recent trend we noticed was that while maintenance requests went down, install requests went up. A hot and sweaty summer is fast approaching, so presumably customers are looking to get their HVAC situation sorted before they're stuck inside all summer without AC.
Maintenance is more of a "nice to have," but air conditioning is a necessity in Pennsylvania, so increased intent around installs follows the trend of consumers pausing purchases for "wants" and continuing to make purchases for "needs." In response, we've shifted our advertising campaigns to focus on installs for the time being, in order to capture that market.
We're also seeing increased interest in home air purifiers, as shown below.
Google Trends Search Volume Data – "Air Purifiers"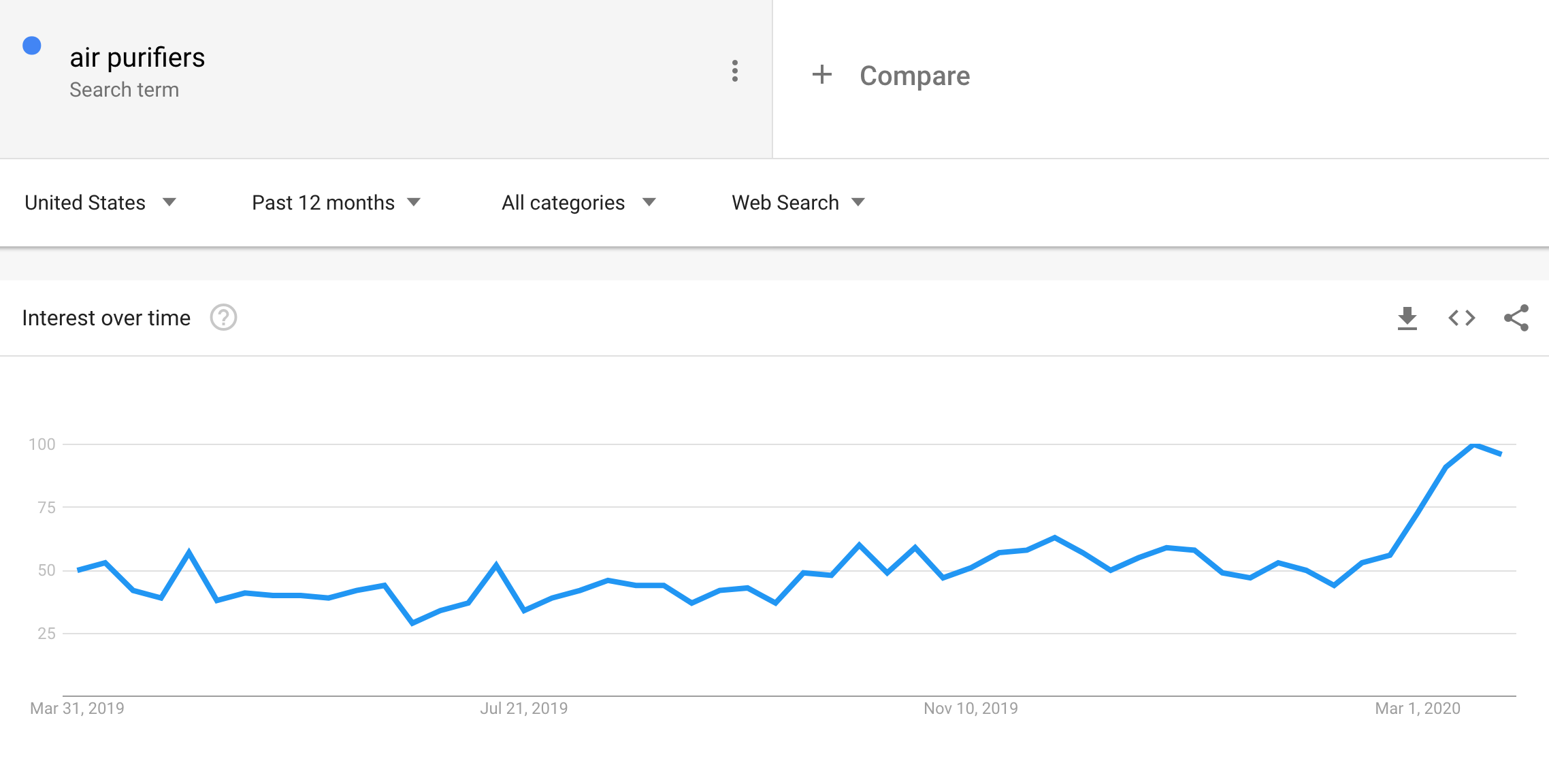 To capture this interest, the HVAC company is pushing messaging around indoor air quality. This is for two reasons: one, their audience is spending almost all of their time inside, so having clean air is a plus in general, and two, air purifiers are effective at cleaning viruses from indoor spaces. While air purifiers haven't been tested on Covid-19 specifically, they may work for ridding homes of minuscule coronavirus droplets floating around inside.
Takeaway: Isolate what has changed for your customers. A shift in their priorities can signal which of your products or services are most valuable right now. Look at how you can serve customers in this current climate, by focusing on one product or service that has retained traction, or even looking outside of your typical offerings. While diversification is usually best, focusing efforts and spending may be the better approach during this pandemic. Make sure to update your messaging and targeting to match your observations, in order to show your current value to your customers and highlight how you can help them.
Timely analysis has helped many of our clients adapt. If you are in need of strategy support, please contact us.
High Demand for Online Content, Classes, and Events
Companies that typically depend on in-person activity, whether they're in industries like education, fitness, or events (or any businesses that depend on events for revenue, marketing, sales, or fundraising), have been hit especially hard by shelter-in-place orders and have been scrambling to adjust their strategy. Many companies have quickly moved their events and content from in-person to online, hosting meetups, webinars, and courses, streamed live or recorded ahead of time.
For any organization that is used to meeting in-person, moving events and classes online can provide value to the community, increase brand awareness, and reach a wider audience than under normal circumstances.
This is clearly displayed in Google Trends, as searches for online content and events have soared over the past few weeks.
Google Trends Search Volume Data – "Webinar"
Google Trends Search Volume Data – "Online Class"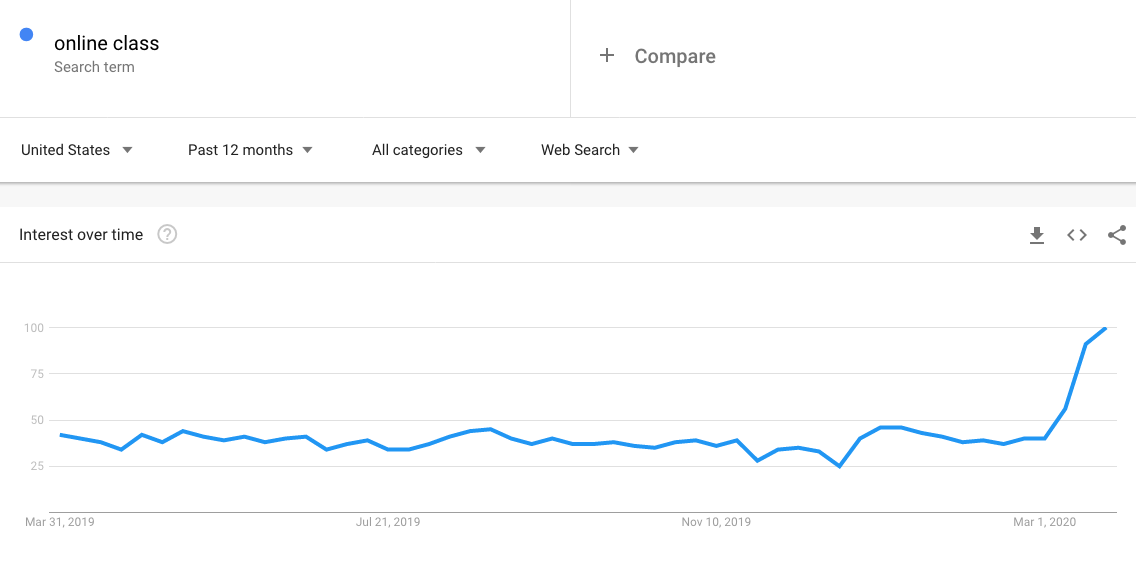 Our good friends over at Tuck Yoga and Barre had to close down their location a couple of weeks back. In an effort to provide immediate income to their instructors and offer an accessible fitness option for their clients, they started offering free streams of their classes on Facebook and encouraged fans to tip instructors directly, through Venmo.
Co-founder Hagana says, "We had no long-term plans when we launched, but because we were one of the first studios in the nation to convert so quickly, our Facebook followers quadrupled during that first week, and our teachers were showered with support from appreciative clients." Because they were so quick to adapt, the move was written up in many media publications, bringing in new fans from all over the country.
While this may seem like a huge shift, if you're able to move quickly and use existing digital infrastructure, it's not as much work as it seems. By using Facebook's live streaming feature, they didn't have to develop any technology, and they are leveraging their existing Facebook audience to meet their customers where they already are. After that, all it takes is a tripod and a smartphone, coupled with a media push to raise awareness outside of your current customer base.
We believe that companies and organizations moving towards online content is not just a temporary solution, but will lead to a long-term change. Take it as motivation to adapt to the future, sooner. With the pandemic forcing businesses online, many will get over the hump of setting up infrastructure, developing internet processes, and most importantly, realizing that online content is actually a viable option for reaching people who maybe otherwise wouldn't be able to attend in-person.
Takeaway: There is tremendous value in providing content that will help your audience navigate this crisis. Whether that is content that is directly related to the pandemic (if that's relevant to your industry and audience), content that helps people take care of their health and fitness while stuck at home, content that helps people learn new skills (like cooking or professional development), content that helps people socialize and stay connected, or just content that keeps people entertained, people are hungry for it right now. There is still plenty of room for your company to add your voice to the conversation and reach out to connect with and help your audience.
Next Steps
Most companies didn't have a plan for the kind of mass global upheaval we're going through right now. That's understandable, but now is the time to create a plan and start moving forward. Look at your market and the behaviors of your audience. Some industries are trending up, some down, some pivoting towards one offering, but all are seeing new and creative business and marketing tactics take root.
You need context to know what to do next: Is your audience motivated towards your product or service, or away? Is that true across all of your products or services? How could you change your marketing channels and product or service distribution to reach them now?
If you need help determining next steps, are looking to shift towards digital marketing, or just need some guidance in uncertain times, we're offering marketing consultations for businesses. Contact us today to set up your consultation.
---
This is the first article in a series examining how businesses are adapting to the pandemic and identifying opportunities to make it through the shutdown. Our second article in this series looks at how food and beverage companies are adjusting.